About us
At CSCK we know that a cancer diagnosis is life changing so we are here to support you and help you take back some control in your life. In a rapidly developing country trying to emerge united post-war, Kosovo still faces many economical, social and institutional challenges – we are here to discuss these challenges and offer advise and potential solutions.
What we do?
From diagnosis to treatment and recovery we are here to support you. Using personal experiences as well as a whole range of professional expertise we want to support you through your journey with cancer.
Who we are?
We are millions of people affected by cancer, supporters, professionals, volunteers, and campaigners. We are CSCK and together we will become stronger – help us help you.
Contact us?
If you want to get in touch with us, have any questions or want to join our team then we want to hear from you.
Dr. Blerina Ahmetaj-Shala
Director
Blerina completed her doctorate (Ph.D.) in 2013 in London in the field of Physiology/Pharmacology and currently works at the Cardiovascular Division of the National Heart and Lung Institute at the prestigious university Imperial College London. She has published in many highly rated scientific journals, articles, and books and has presented her work worldwide at congresses. As well as working full-time in research, Blerina is heavily involved in post-graduate teaching at the university and is an associate fellow of the Higher Education Academy.
Dr. Fisnik Shala
Director
Fisnik completed his in degree in general medicine at the University of Pristina in Kosovo and trained for a short while before moving to the UK in 2012. He has completed clinical attachments and teaching positions at St Geroge's Hospital in London. Since 2014 he has been heavily involved in research working alongside successful research groups at the National Heart and Lung Institute at the world-leading university Imperial College London. He helped to set up CSCK after his father Gani Shala was diagnosed with MDS.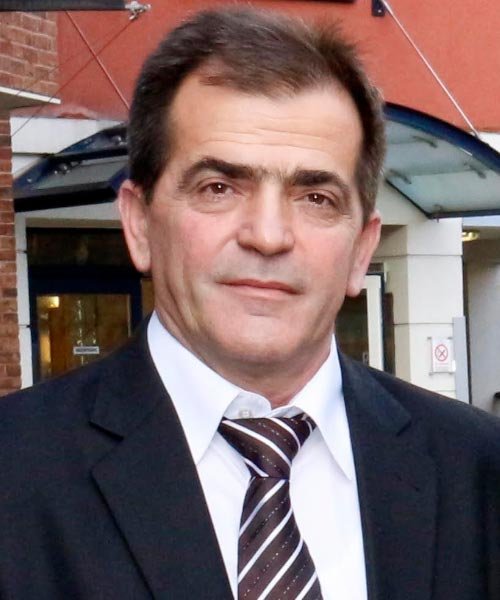 Gani Shala
Associate Director and MDS patient
Gani Shala was a qualified engineer specializing in transport and communications. He graduated with a Masters in engineering (M.Eng) degree at the University of Zagreb, Croatia and in 2001 helped form the Ministry of Transport and Post-Telecommunications of Kosovo. He held a position as a legal expert in the Kosovar courts against misdemeanors. Gani helped form CSCK in 2018 after being diagnosed with MDS in 2017. Unfortunately, Gani lost his battle with MDS in December 2018 but his legacy of helping people when they need it most still continues through CSCK.
Drilon Berisha
Head of Marketing and Multimedia
Currently residing in New Jersey, US – Drilon is a consultant for many pharma and healthcare companies in US providing technologies support, analytics, AI and machine learning technologies, for better research of improving lives of patients by delivering truly innovative and life-changing treatments, companies he works/worked: Celgene, Takeda, BMS, Regeneron, Amgen, Akorn, Excellus BlueCross BlueShield, Wellcare etc.
Vlora Ejupi
Clinical Nurse Specialist in QKUK, Kosovo
A qualified nurse with a diploma from Glasgow Caledonian in Kosovo, Vlora works from the Hematology/Oncology department as an intensive care nurse. In 2018 she aims to complete a Masters degree in 'Management of Health' and join the Hematology Nurses and Healthcare Professionals Group (HNHCP). Vlora is in direct contact every day with patients with all types of blood cancers.
Dr Hatixhe Latifi-Pupovci
Clinical Specialist in Immunology and Allergology, and Medical adviser
Hatixhe is a qualified doctor. She completed her medical studies in 1988 at the University of Pristina and holds a masters and PhD. In 2013 she became an associate professor at the University of Pristina and since 2017 she is the Head of Department of Physiology and Immunology where she is responsible for the organization of work in the department. Hatixhe has received various excellence in teaching awards and has taken part in international trainings including at "Johann Wolfgang Goethe" University of Frankfurt, Germany and University of Tuebingen. She is an advocate for Education Against Corruption and has published in many articles and meetings. As well as her research in immunology and allergy, she has interests in public health and epidemiology in particular investigating the incidence rates of blood cancers in Kosovo.

Dr Viola Gjylameti-Cavolli
Hematologist and Medical advisor
Viola works at the University Clinical Centre of Kosovo in Pristina in the hematology department. She qualified in medicine at the University of Tirana in 2004 and completed her hematology specialist training in 2014 at the National hospital "Mother Teresa", Tirana, Albania. She has particular training in transfusion medicine and is a member of the European School of Transfusion Medicine. Her interests include basic molecular biology, malignant hematologic diseases, and inherited disorders and bone marrow transplantation. She has also published several scientific articles.
Dr Irina Panovska-Stavridis
(Consultant hematologist and medical advisor)
Irina is a consultant hematologist who gained her medical qualification from the University of Skopje in 1995 and also holds a postgraduate degree (masters) in hematology and a doctorate degree. She has been working at the Clinic for Hematology at the Clinical Center of Skopje for over 20 years and in 2017 was appointed as the Medical Director. She is also as a Professor of Internal Medicine at the Faculty of Medicine at the University of "St. Cyril and Methodius" in Skopje, Macedonia. Irina has participated in various national and international workshops and training sessions including at the Royal Marsden Hospital in London, UK and The Feinstein Institute for Medical Research in New York, USA. She holds many awards in recognition for her achievements and has published many high impact scientific research articles.
Dr. Agnesa Mustafa
Medical Advisor
Agnesa Mustafa studied Medicine at King's College London and graduated in 2015. During her medical training, she also obtained a 1st Class Honours intercalated BSc in Clinical Pharmacology and Translational Medicine and published her research in the field of cardiovascular medicine. 
Agnesa currently works as a doctor at Guy's and St Thomas' Hospital, specialising in general internal medicine and has a special interest in pharmacology and in particular, access to medications in Kosovo.
Vesna Aleksovska
Advisory capacity, Chairman of 'Life with Challenges', Macedonia
Vesna is the chairman of the patient organization 'Life with Challenges' (http://challenges.mk/en/) in Macedonia, which advocates patient rights, provides information on rare diseases and connects patients and families with other patients in similar positions.
Sophie Wintrich
Advisory capacity, Chair of MDS Alliance
Sophie has been working with patients and support groups for the last 14 years. In 2008, as part of her MDS Foundation work in the UK, Sophie helped set up and develop the MDS UK Patient Support Group. Since 2010, Sophie has been an active founding member of the MDS Alliance, the new worldwide umbrella group for national MDS organizations (https://www.mds-alliance.org). MDS Alliance provides assistance, guidance, networking, mentoring, sharing of resources and information materials for established and emerging MDS groups worldwide.